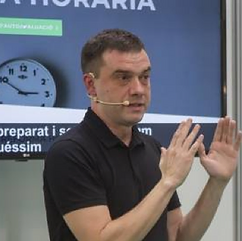 Social psychologist, responsible of technical secretary of the Barcelona Time Pact
Technical director in the pilot tests of the time reform in the creation of the Time Reform Inventory and in different projects related to the time reform. Responsible for the Technical Secretariat of the Barcelona Time Pact. He has participated in various projects for the promotion and implementation of new, more rational timetables and more productive organisations, both for the third sector, and for different town councils, with youth organisations in the field of education, also in high schools and women.
He has participated in the participatory process for the time reform and in the process of agreement that has resulted in the elaboration of the Pact for time reform in Catalonia, in July 2017, a document that has the support of more than 110 actors and institutions from all over the country.
He also gives conferences in different spaces, as a result of the time reform and its application in organizations and articles for both companies and entities. 
BTUI's expertise areas: Organisation of citizens' time and psychosocial risks in organisations