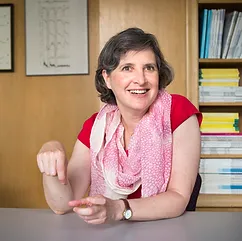 Research physician interested in sleep and circadian rhythms
Elizabeth B Klerman MD PhD studies the impact of sleep and circadian rhythms on human physiology and pathophysiology using clinical studies and mathematical modelling and analyses.
She is Professor of Neurology at Harvard Medical School and a Research Investigator at Massachusetts General Hospital. She has received research support from the U.S. National Institutes of Health, the National Space Biomedical Research Institute, other Federal agencies and industry, and authored more than 90 peer reviewed articles and reviews.
She is dedicated to mentoring and improving access to clinical and translational research. She is an active member and participates in committees of the American Academy of Sleep Medicine, the Sleep Research Society, the Society for Research in Biological Rhythms, and the International Academy of Astronautics.
The International Space Station Flexible Lighting Team, of which she was a member, was awarded the 2014 NASA Johnson Space Center Director's Innovation Award.
BTUI's expertise areas: Chronobiology